While Ivette was blowing herself up, April was picking her nose and Howie was playing with a light saber. It loks like he was trying to chop of April's head, but she had to get out of the way. To nobody's surprise, they blamed it on Janie, who was inside when it happened.
Unfortunately, there was little damage. It was actually good, she got rid of her unibrow...
x-posted everywhere

EDIT: I've got a bigger pic. As you can see, April is examining the nice little piece of gold she found in her nose.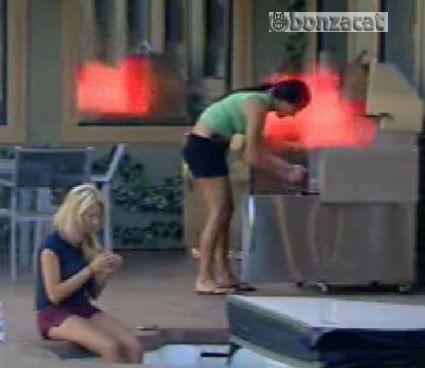 EDIT2: April's excuse for her nose-picking is that her nose hurts 24/7. Ivette asked her about it. MORE EDITS!: She put her hands over the grill too. So not only did she almost get a Ghetto Face Lift, she almost got Micheal Skupin Hands too. Haha, Survivor joke. I liked Mike...