APPLICATION
NAME: caitlin
MIDDLE NAME: marie
DO YOU LIKE IT?: I hate how popular both of the namese are. But, i like how i spell my first name.
AGE: 13 .. but im going to be 14 march 10
SEX: female
SEXUAL PREFERENCE: guyss
STATUS: singlee
LOCATION: bridgewater, ma
DO YOU LIKE IT THERE?: Yes, I like most of my friends and I love going to Boston and the Wrentham Outlets ;)
[FAVORITES]
FAVORITE BANDS:
1. All American Rejects
2. Daphne Loves Derby
3. Matchbook Romance
FAVORITE RECENT SONGS:
1. Tell Mick he just made my list of things to do
2. Helena
3. One more sad song
FAVORITE ALL TIME SONG
1. wonderwall
FAVORITE MOVIES
3. wicker park
2. hitch
1. meet the fockers
FAVORITE ALL TIME MOVIE
1. superstarr
[QUESTIONS]
WHY SHOULD WE ACCEPT YOU? Well i already am because I made this community :). But, probably because I have confidence and I think that is beautiful.
WHY ARE YOU BEAUTIFUL? I have confidence, don't make fun of people for no apparent reason, and I am not the ugliest puppy of the liter.
HAVE YOU BEEN TOLD YOUR BEAUTIFUL? Yes.
WHATS THE SWEETEST THING THAT EVER HAPPENED TO YOU? Well, this one boy before he asked me out told me all of the reasons why he likes me and how he loves how i make faces when i'm mad, and how I smile 24/7, how i say the stupidest stuff and think its funny, and how i scrunch my nose when I laugh.
MAKE US LAUGH: http://www3.ns.sympatico.ca/lyle_24/myhero.html
WHATS THE FUNNIEST THING THAT EVER HAPPENED TO YOU? Well, i dont have just one time but whenever I am in school i get yelled at when i'm not even doing anything and it always seems like whenever i talk about a teacher they know so me and my friends make a joke out of it.
WHATS THE MOST EMBARASSING? Probably that in fourth grade a kid decided to break my chair so when i sat down it completely collapsed.
WHATS THE WORST WAY TO GET DUMPED? I'd have to say when you get dumped and then they IMMEDIANTLY go out with another girl and they say 'i dont have the time' or any other bad excuse. But, thank god I have only been dumped once.
[OPINIONS] *PICK THREE*
BUSH:
THE WAR: Ah, that one is a tuffy. I think that we are at war for all of the wrong reasons, and I don't see if they had this HORRIBLE leader for such a long time then why didnt it happen earlier? That is all i have to say on the war.
THE BLIZZARD OF '05 VS. THE BLIZZARD OF '78: Ha, well I live in New England so I expirenced the blizzard of '05. I got snowed in at one of my friends house :) luckily with 2 other girls and I seriously didnt think that we got more snow then the whole 'blizzard of 78'. even thou we did get more snow, i think that the blizzard of 78 beats the blizzard of 05 just because it does :).
ABORTION:
TEEN PREGNANCY:
OBESITY: I think that their should be way more cheap gyms and that we shouldnt have food be so over priced. The cost of making a real homemaid meal is so much more than just buying McDonalds. Also, i dont think that it's their fault.
[PICTURES]
FAVORITE CELEB OUTFIT: Probably anything from Jessica Simpson.

FAVORITE OUTFIT:http://shop.pacsun.com/webapp/wcs/stores/servlet/ProductDisplay?storeId=10001&catalogId=10001&langId=-1&productId=69704&parentCategoryId=10002&categoryId=10963&pageNumber=1&sortBy=0
http://shop.pacsun.com/webapp/wcs/stores/servlet/ProductDisplay?storeId=10001&catalogId=10001&langId=-1&productId=70363&parentCategoryId=10002&categoryId=10954&pageNumber=1&sortBy=0
^i have neither of them :\ but i just found it and they look cool :)
POST AT LEAST ONE PICTURE OF YOU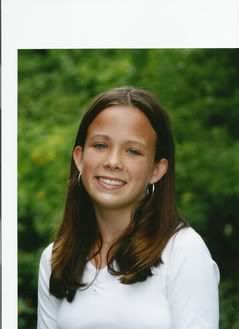 < ew ew ew ew ew i know .. picture from LAST year before i wore makeup/ discovered a hairstraightener .. once i take better pictures i will DEFFINATELY post them