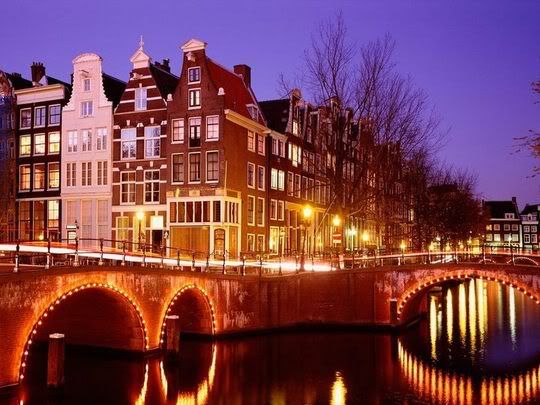 Merry Xmas everyone and Happy Holidays. :)
Amsterdam is always worth a trip but it's especially nice in this season.
---------
Christmas in Amsterdam is truly a season of celebration, whether or not you celebrate the day itself in its traditional, religious sense.
The Dutch holiday season started weeks ago, November 14, with the arrival of Sinterklaas and all his Zwarte Pieten (Black Peters). The story says that naughty children will be whisked off to SPAIN by these helpers of Sinterklaas, but there were no signs of missing children on the day of the parade. The Pieten received far more attention from the throngs of children than did the Sint himself, perched atop his white horse (perhaps this was due to the fact that they carried candy and cookies, which they gave out to the children by the handful!).
The celebrations continued on the weekend of 5 December, when Sinterklaas (originally the holy day of Sint Nicholaas) is celebrated each year. On the eve of the 5 December, the children leave their boots by the fireplace, hoping to wake up to find them filled with sweets. On the day itself, families gathered to exchange gifts and (traditionally) insulting poems and to eat lavish holiday meals.
For visitors to the city, who are more used to the Anglo-American Christmas held on the 24 and 25 December, there is till plenty of fun left to be had. Although the majority of Dutch people have adopted similar traditions of gift exchange and family celebrations during this time, many businesses remain open. Tourists are a welcome sight in the city any time of year, and businesses have learned to cater to the many that choose to spend their Christmas holidays here.
Source - Christmas article:
From
http://www.amsterdam.info/events/christmas/
Amsterdam Architecture & Heritage info:
http://www.bmz.amsterdam.nl/adam/uk/woonh.html
Amsterdam General & Tourism info:
http://www.visitamsterdam.nl/