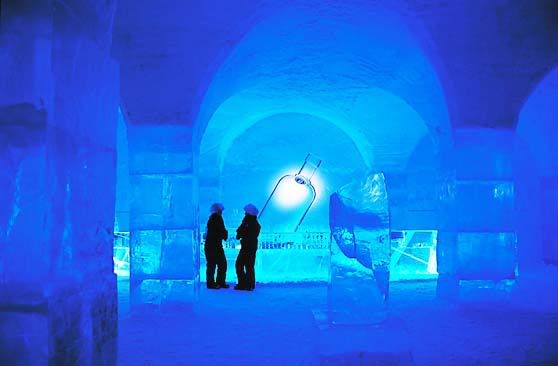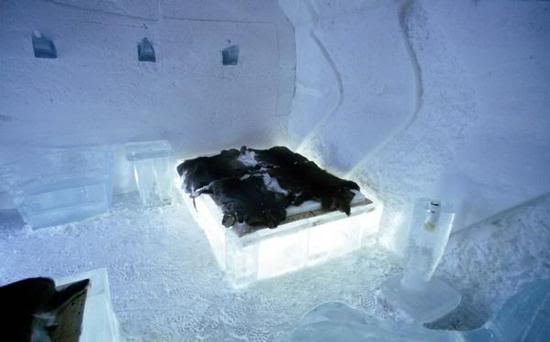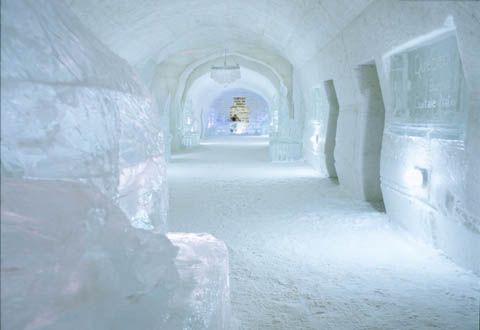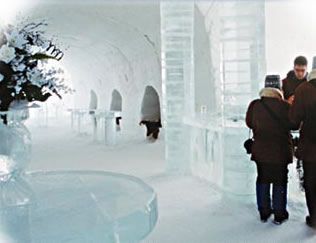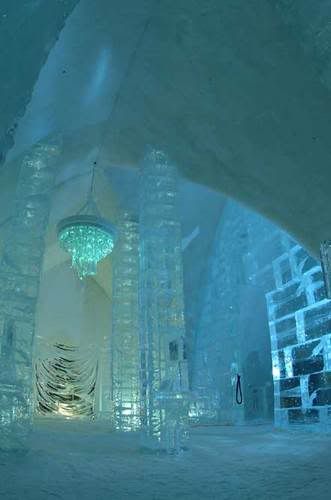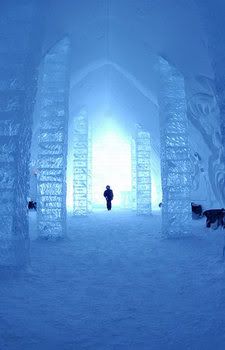 Ice Hotel in Quebec, Canada.
Ice hotels are temporary buildings made up entirely of snow and sculpted blocks of ice. They are built each year in the coldest regions of the world as a way to attract vacationers to resort areas. Heavily promoted by their sponsors, they have special features for travelers who are adventurous and interested in more unusual environments. Their lobbies are filled with ice sculptures and food and beverages such as vodka are especially chosen for the circumstances.
CANADA
About 10 km East of Québec City, the first ice hotel in North America is erected each January. In its last iteration it had 85 beds, all made of ice but lined with deer furs and covered with mattresses and arctic sleeping bags. Only the bathrooms are heated, in a separate insulated structure. The hotel is usually made (architecture and size vary from season to season) with 4,750 tons of sculpted ice, forming arches over rooms with 16 foot (5 m) ceilings, two art galleries, a bar, a movie theater and a chapel where weddings are held. All of the furniture is made of ice, so are glasses and plates. $120-$180 USD/night, each room has Internet access. In its first 4 years of operation the hotel has had 220,000 visitors and 10,500 guests. In 2005 it will open on January 7 and close down on April 3rd.
http://www.icehotel-canada.com/en/index.en.php
SWEDEN
The Ice Hotel near the village of Jukkasjärvi, Sweden was the first of its kind and is probably the most famous. With the exception of the beds, the entire hotel is made out of ice blocks. The hotel only exists between November and May. In its latest incarnation it will probably be over 30,000 square feet (3,000 m²) in size. The management boasts that each room is unique and that the architecture of the hotel is changed each year, as it is rebuilt from scratch.
http://www.icehotel.com/
NORWAY
The Alta Igloo ice hotel has been rebuilt yearly since 1998. It is Europe's northernmost ice hotel. The hotel has 20 beds and it is decorated with numerous ice sculptures and furnishings, including lighting systems which enhance the different types of crystalline formations. The guests use sleeping bags covered on reindeer hides.
http://www.alta-friluftspark.no/alta_friluftspark_eng/
FINLAND
The Mammut snow hotel is not an ice hotel per se as it is made entirely of snow. Many of its furnishings and decorations are made of ice. It is located within the walls of the Kemi snow castle.
http://www.snowcastle.net/
Also come have a look at
___interiors___
& JOIN! :)