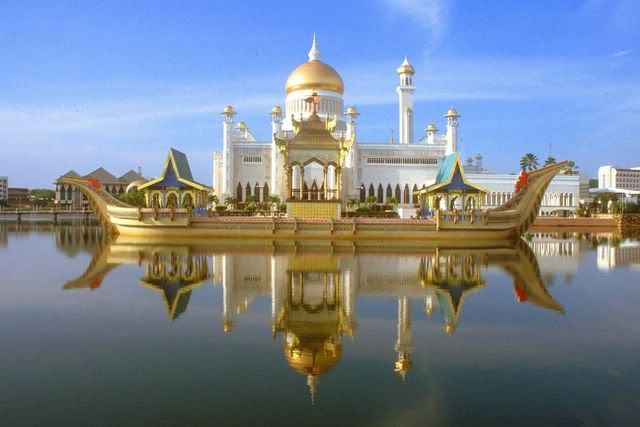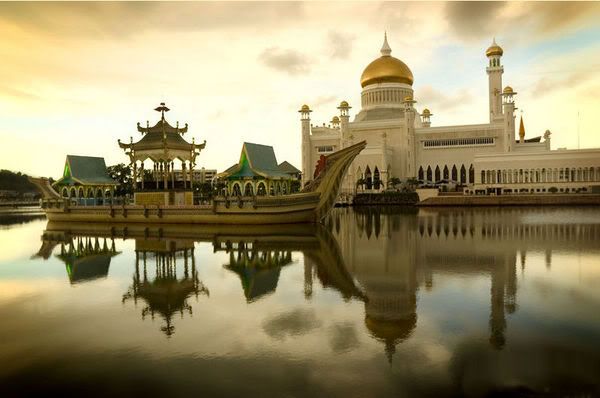 3 different views of the Omar Ali Saifuddin Mosque in Brunei.
Named after the 28th Sultan Omar Ali Saifuddin and designed by an Italian architect, this mosque was built in 1958 in the city of Bandar Seri Begawan in the country of Brunei. The golden-domed structure has Italian marble floors and walls. A stone replica of a 16th-century barge rests in the Brunei River in front of the mosque.
One of the most spectacular mosques in the Asia-Pacific region it is a truly magnificent sight. The mosque, which is said to be a symbol of the Islamic faith, dominates the skyline in the capital. The golden dome stands 52m (171ft) high and can be seen from virtually anywhere in the city. It is another impressive example of Islamic architecture, featuring exquisite mosaics and stained glass as well as countless arches, domes and columns. Marble from Italy, granite from Shanghai and chandelliers from England were used in the construction of Brunei's most ornate building.
Brunei is a Sultanate on the Northern coast of the island of Borneo, located in SouthEastern Asia. Its current ruler Hassanal Bolkiah Muizzaddin Waddaulah, who is both Sultan and Prime Minister, has a sizable private fortune. He was considered by Forbes Magazine to be the world's richest man in 1997, with a net worth of almost US$ 40 billion and has been in the news for "importing" beautiful women to the palace from all over the world.
COUNTRY INFO:
http://en.wikipedia.org/wiki/Brunei