If you guys like anyone from Psychopathic Redcords, Rydas Records, Lyrikal Snuff Productions (LSP), Kamp Blood, 7th Seal Entertainment (7SE), or Rottin Musick (RM) then read on. This is coming from a down ass Juggalette "These guys are the SHIT! Scum brings the wikid shit like I've never fuckin' seen!"
Pandora's Box for Sale by KBPromotions for $10!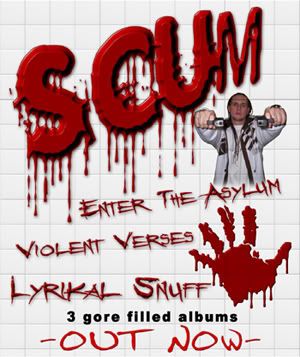 All FOUR Scum CDs for sale by KBPromotions!

Only Bodies Left Behind (OBLB) -- $12
Violent Verses -- $10
Enter The Asylum -- $10
Lyrikal Snuff (by LnG) -- $8

Click the Pics or you can go to http://www.myspace.com/kbpromotions. You can e-mail Max or Kindra at KBlood_Promos@yahoo.com.

You can also buy two for $18, three for $25 or ALL FOUR for $30!