Need graphics? Can't make them yourself? Having trouble finding a community to request more than just icons? Well,
morethanicons
is the perfect community for you.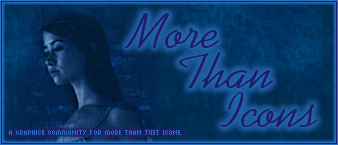 You don't have to join to request, but we (the graphic makers) need requests to fill! So come check us out. To insure that we make the best graphic possible for you, please read the rules and requesting etiquette before posting.
We offer banners, AIM/YIM/MSN buddy icons, wallpapers, webpage backgrounds, blogs, animations, pixel dolls, avatars and signature banners for messageboards, and yes we can make LJ icons too.
And if you need something that isn't listed, throw it our way and we'll see what we can do for you.