Name: liz.
Location: chicago
Birthday or Age oct4 / 15.
Five Favorite Bands:
+ bright eyes
+ death cab for cutie
+ taking back sunday
+ brand new
+ the beatles
Five Favorite Movies:
+ donnie darko
+ mothman prophecies
+ girl interupted
+ butterfly effect
+ napoleon dynamite
Two Favorite Actors:
+ adam brody
+ shane west

Short Opinions [fill in a few words to describe the category--don't write an essay on each]
Pro-choice is: understandable, but not something i agree with. unless the woman got raped, i'm definetly against abortions.
Metal Music is: noise. i don't know, not my thing.
Labeling is: one of the most irritating things ever. i can't stand labels. rawr.
The color pink is: over-rated. hot pink is cool though.
My favorite color is: teal/turquoise. ;]


Promotion
One place I promoted this community to is:
http://www.livejournal.com/community/emo_fun/

Picture[s]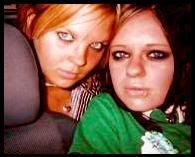 -left.