i got bored yesterday and made a peter pan themed page in my journal.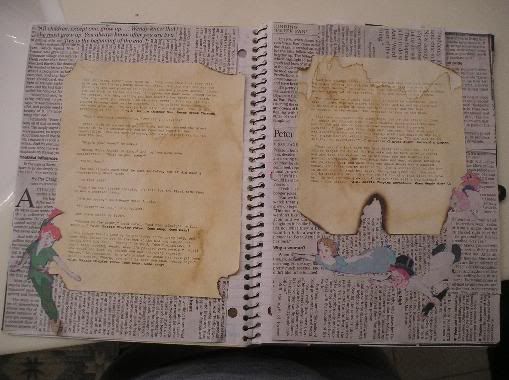 "All children, except one, grow up. They soon know that they will
grow up, and the way Wendy knew was this. One day when she was two
years old she was playing in a garden, and she plucked another flower
and ran with it to her mother. I suppose she must have looked rather
delightful, for Mrs. Darling put her hand to her heart and cried,
"Oh, why can't you remain like this for ever!" This was all that
passed between them on the subject, but henceforth Wendy knew that
she must grow up. You always know after you are two. Two is the
beginning of the end." –J.M. Barrie Chapter One: Peter Break Through
"Boy," she said courteously, "why are you crying?"
Peter could be exceeding polite also, having learned the grand
manner at fairy ceremonies, and he rose and bowed to her
beautifully. She was much pleased, and bowed beautifully to him
from the bed.
"What's your name?" he asked.
"Wendy Moira Angela Darling," she replied with some
satisfaction. "What is your name?"
"Peter Pan."
She was already sure that he must be Peter, but it did seem a
comparatively short name.
"Is that all?"
"Yes," he said rather sharply. He felt for the first time that
it was a shortish name.
"I'm so sorry," said Wendy Moira Angela.
"It doesn't matter," Peter gulped.
She asked where he lived.
"Second to the right," said Peter, "and then straight on till
morning." –J.M. Barrie Chapter Three: Come Away, Come Away!
"To induce her to look up he pretended to be going away, and
when this failed he sat on the end of the bed and tapped her
gently with his foot. "Wendy," he said, "don't withdraw. I
can't help crowing, Wendy, when I'm pleased with myself." Still
she would not look up, though she was listening eagerly.
"Wendy," he continued, in a voice that no woman has ever yet been
able to resist, "Wendy, one girl is more use than twenty boys."
—J.M. Barrie Chapter Three Come Away, Come away!
</i>
and on the right they are:
"And you a lady; never." Already he had tied the tail round her.
She clung to him; she refused to go without him; but with a
"Good-bye, Wendy," he pushed her from the rock; and in a few minutes
she was borne out of his sight. Peter was alone on the lagoon.

The rock was very small now; soon it would be submerged. Pale
rays of light tiptoed across the waters; and by and by there was
to be heard a sound at once the most musical and the most
melancholy in the world: the mermaids calling to the moon.

Peter was not quite like other boys; but he was afraid at last.
A tremour ran through him, like a shudder passing over the sea;
but on the sea one shudder follows another till there are
hundreds of them, and Peter felt just the one. Next moment he
was standing erect on the rock again, with that smile on his face
and a drum beating within him. It was saying, "To die will be an
awfully big adventure."" –J.M. Barrie Chapter Eight: Mermaid's Lagoon

"That was the last time the girl Wendy ever saw him. For a
little longer she tried for his sake not to have growing pains;
and she felt she was untrue to him when she got a prize for
general knowledge. But the years came and went without bringing
the careless boy; and when they met again Wendy was a married
woman, and Peter was no more to her than a little dust in the box
in which she had kept her toys. Wendy was grown up. You need
not be sorry for her. She was one of the kind that likes to grow
up. In the end she grew up of her own free will a day quicker
than other girls." –J.M. Barrie Chapter Seventeen: When Wendy Grew Up